You can find the upcoming SNS raffles from googling "SNS Raffles" or here https://www.sneakersnstuff.com/en/937/sns-raffles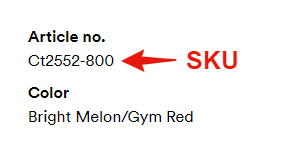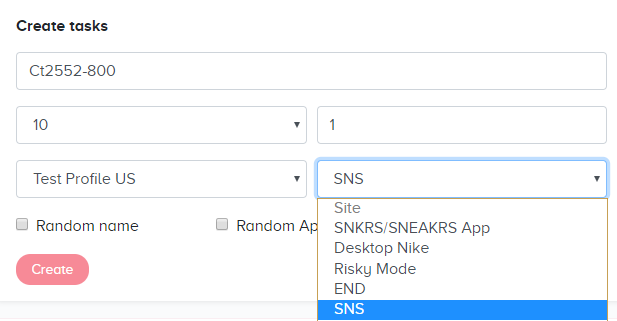 Select SNS from the site drop down menu, when creating SNS tasks.
When creating tasks make sure to use the SKU of the product. This also requires SNS account(s) in your settings of the bot.
Size:

choose your desired size in the drop down menu. Sizing is based on US sizes. You may also select "Random" and our tasks will select a random size.
Quantity:

the number of tasks you want the bot to create
Profile:

this is the billing profile you will use for your task. You can select a specific profile to create a task for. If you select "Use All Profiles", Ghost will create a task for every single one of your profile.
Random Name:

the task will use a random name for shipping and billing if this is checked off. For example, your name in the profile is "Ben Miller" but the bot will randomize the name to "Greg Smith"
Random Apt:

the task will ignore what you have in Line 2 and randomize the Line 2 for you.

Please do not use this feature if you live in an apartment

since you risk your package getting shipped to the wrong person.
Random Phone:

the task will use a random 10 digit phone number and ignore the one you have in your profile
Multi Sizing:

this allows you to specify the size you'd like to run for. For example, if you write down 4,4.5,10 - then the bot will create a task where the size is 4, 4.5, or 10 and when the task runs, it will choose one of those sizes.
Task Specific Proxy:

this allows you to assign a specific proxy to your task

Task Specific Account: this allows you to assign a specific account to your task.
Example of what the status should say when the entry is successfully submitted.
Common Errors:
Payment Error: Invalid Credit Card - Invalid card/not accepted by SNS
Payment Error: GENERIC - Possibly proxy issue, try randomizing Name/Phone number
Invalid Account Info - Account doesn't exist or incorrect password
No product found - Incorrect SKU/SKU does not exist
Account not Verified - Account is not SMS verified
Last updated: 02/2/20.